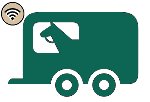 WIRELESS!! Emerald Vision Systems™ offers wireless cameras in your horse trailer. No wires to stretch! See inside your horse trailer while in your cab or car.

Designed to work in an animal trailer, our wireless color camera system is set up in only a few minutes. The robust wireless color camera is mounted in the trailer and the LCD color monitor mounts inside the cab or car for clear color pictures.

YOU KNOW WHAT IS HAPPENING IN THE TRAILER AT ALL TIMES! This system saves lives!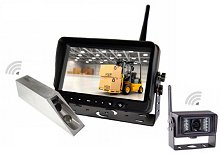 All mounting hardware is supplied.
Your animals will arrive safely and in good health. Use our WIRELESS SYSTEM with confidence and complete satisfaction.
This system can be used as rear back up camera or can be used for monitoring animals from barn to home.
A similar system is available for use on fork lifts. Why guess where your forks are when retrieving pallets? This camera system gives you the capability of picking up your load in a place that would otherwise would not be fully visible. The wireless camera system ensures safe placement of loads using your fork lift.